Jay Parini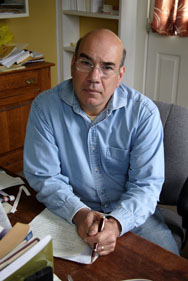 Distinguished Author Recipient 2012
Jay Parini is a poet, novelist and critic. Dr. Parini was born in Scranton and raised in Pittston, Pennsylvania.  Parini received an A. B. from Lafayette College in Easton, Pennsylvania.  As a result of his junior year abroad at the University of Saint Andrews, Scotland, he chose that University for completion of his Ph.D. He began his academic career as assistant professor of English and director of creative writing at Dartmouth College. During this period Parini founded and coedited the New England Review in 1977.  In 1982, he moved to Vermont where he began his tenure as D. E. Axinn Professor of English and Creative Writing at Middlebury College.  
Dr. Parini returned to Great Britain in the early 90s as a visiting fellow at Christ Church College, Oxford, and (2005-2006) as a visiting fellow at the University of London.His writing and scholarship include criticism: Theodore Roethke, an American Romantic (1979);  Why Poetry Matters (2008); Promised Land: Thirteen Books that Changed America (2008) biography:  John Steinbeck (1995), Robert Frost: A Life (1999), One Matchless Time: A Life of William Faulkner (2004);  and  poetry  Anthracite Country (1982) and The Art of Subtraction: New and Selected Poems (2005).   In December 2009, a film adaptation of The Last Station, his 1990 novel about the last year in the life of Tolstoy,  received two Oscar nominations.  His most recent novel is The Passages of H.M (2010).
Parini and his wife, Devon Jersild currently reside in Weybridge, Vermont.